About this project
This innovative facility will support the recreation needs of our growing city and offer Burnaby residents more options for fitness and community involvement.
The 8,500 sq. m (92,000 sq. ft.) arena will accommodate ice sports as well as lacrosse, ball hockey, inline hockey, community events and city-run programs.
Located at 10th Ave and 18th St, the facility will include:
two NHL-sized rinks
a skate shop
a concession
meeting and multi-purpose rooms
warm-side arena viewing
an outdoor rooftop patio
universal gender neutral washrooms
Sustainable design features and water conservation strategies will help minimize the Rosemary Brown Arena's environmental footprint. The arena roofs will feature north-facing windows to provide natural light and a feeling of connection to the outside.
Electric vehicle charging stalls and parking for bicycles will also be available for visitors.
Funding for the $50 million facility comes from the City's Community Benefit Bonus fund.
Project updates
This facility will be named the Rosemary Brown Arena, in honour of politician and social justice champion Rosemary Brown. 
Rosemary Brown (1930-2003) was a pioneer politician, community leader and human rights champion who used her voice to fight discrimination against women and people of colour. She served as a prominent Burnaby MLA from 1979 to 1986, and was the first Black woman elected to a provincial legislature in Canada. 
Rosemary Brown Arena will be completed in late spring 2023.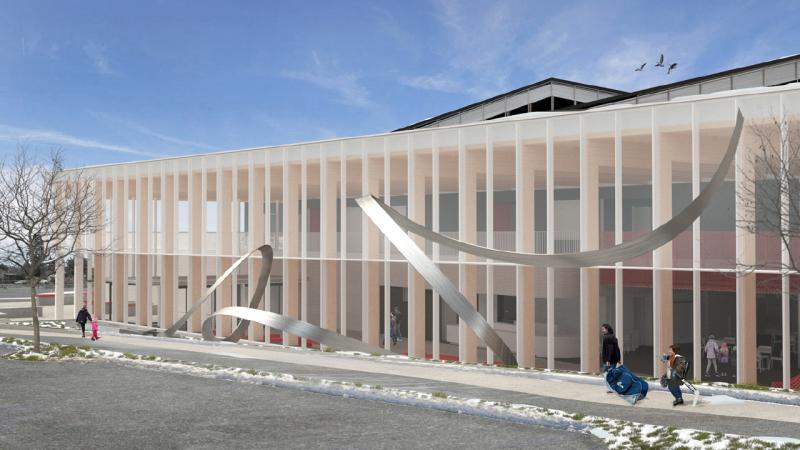 Public art: Gliding Edge
By local BC artist Jill Anholt, "Gliding Edge" takes inspiration from the persistence and determination required to learn the challenging skill of ice skating, as well the incredible sensation of weightlessness, fluidity and dynamism that is experienced once this skill is mastered.
Jill hopes that this work will engage people of all ages within their own lived experience of learning this skill, while also being aspirational to those who are still struggling through the long and arduous process of mastering the art of ice skating. The work is created from singular metal blade-like forms that begin at the ground: wobbling, tilting and crossing one another before they gradually coalesce together into a singular dynamic fluid sculptural form. Taking shape across the entire length of the public art site directly outside of the lobby space, the work moves from the ground to the sky where it carves dynamically through space: rising, falling, swooping, curving, and seemingly gliding weightlessly through the air.
At night, sequenced LED lights located above the artwork create shifting shadows on the ground, evocative of the temporal carvings of skate blade patterns in the ice - overlapping and changing shape and form throughout the evening and dark early mornings.
Construction progress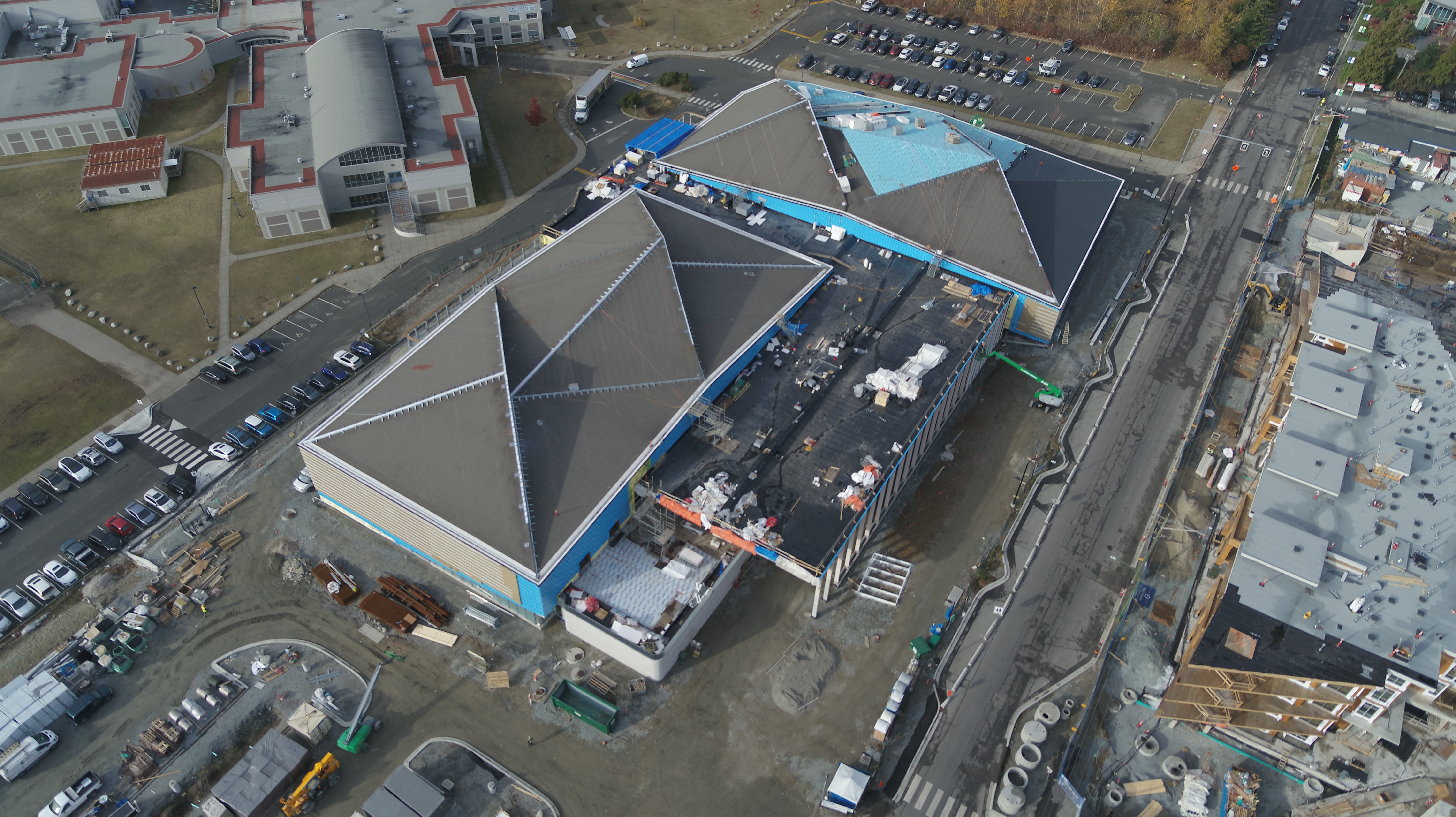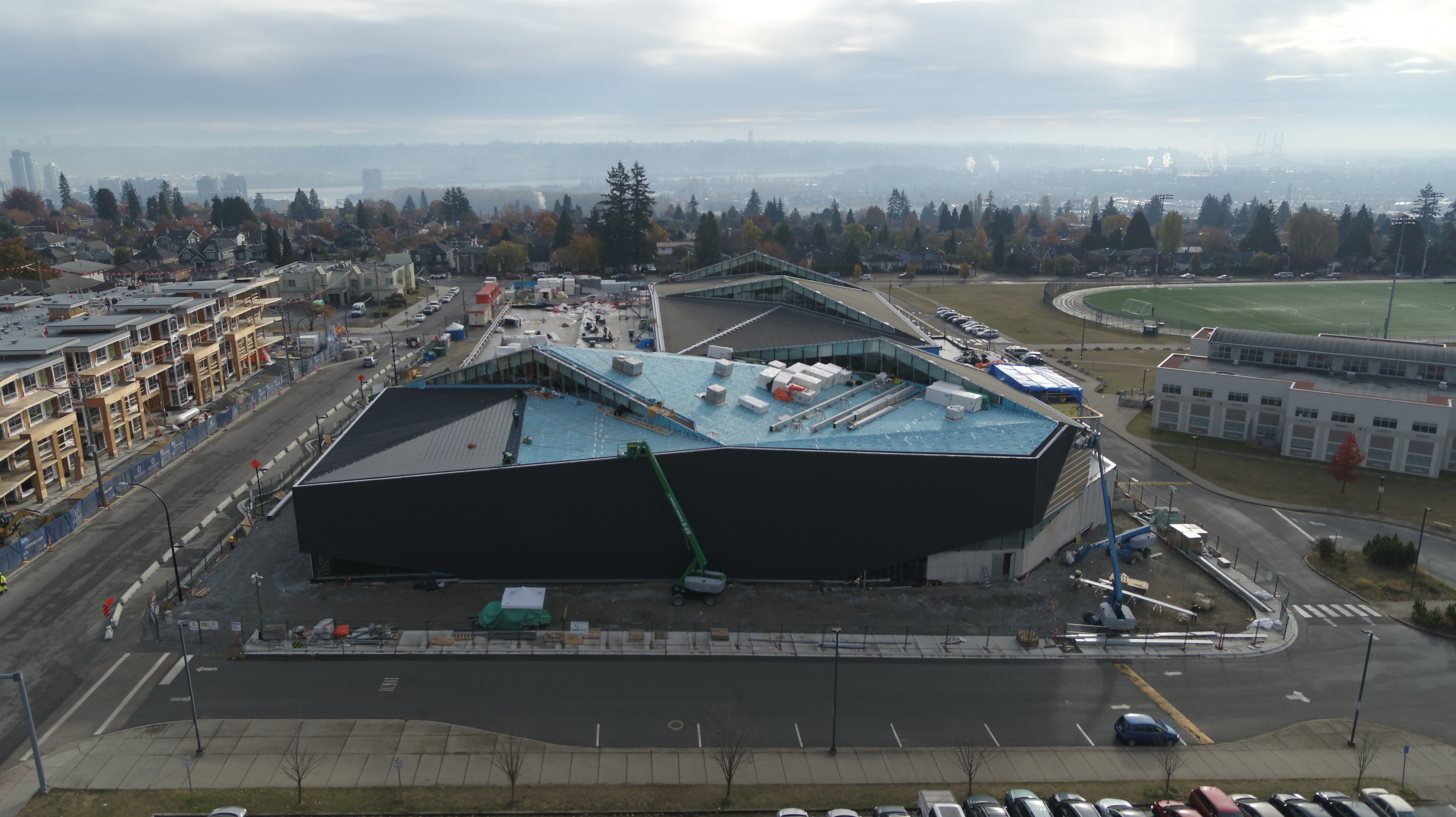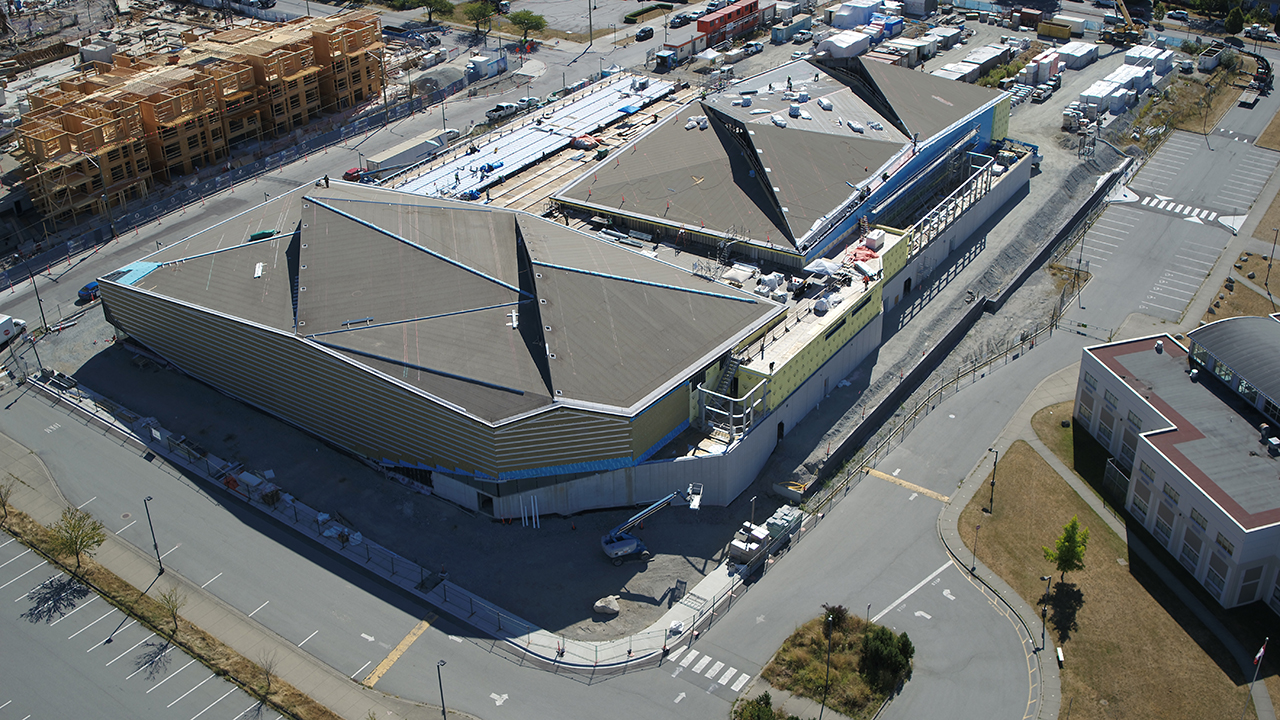 August 2022
Work for building envelope and roof is in progress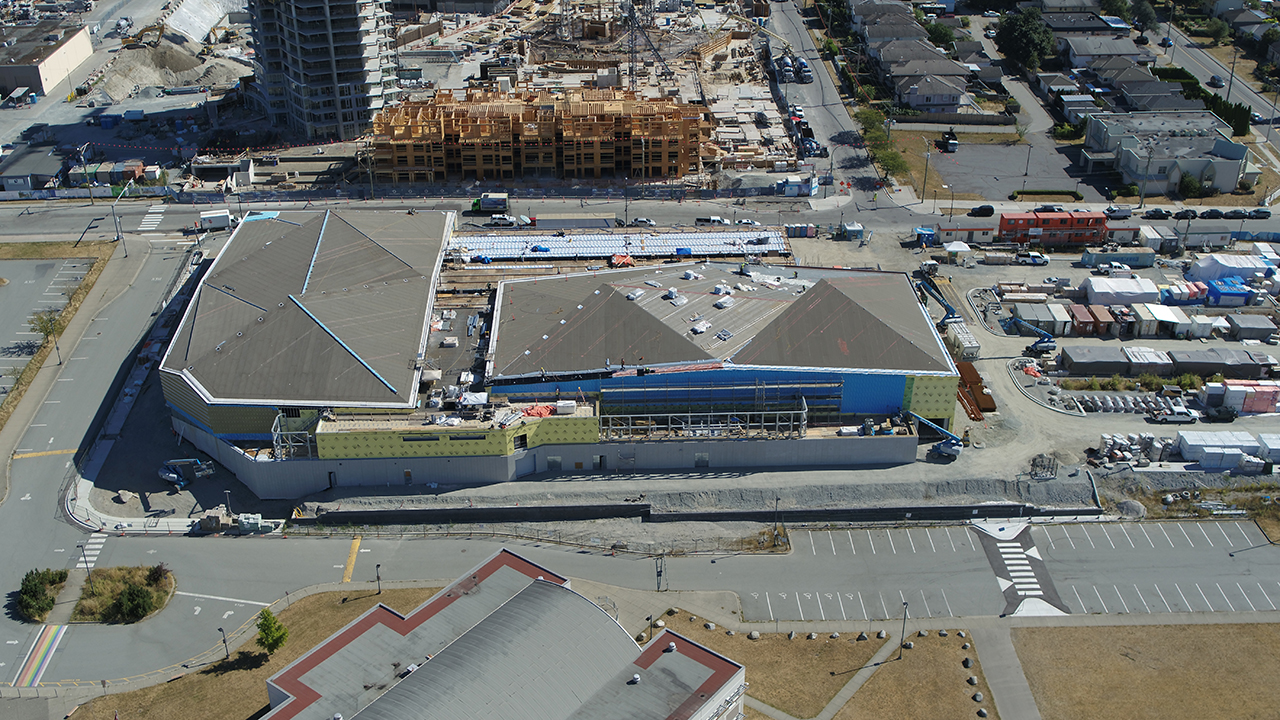 August 2022
Work for building envelope and roof is in progress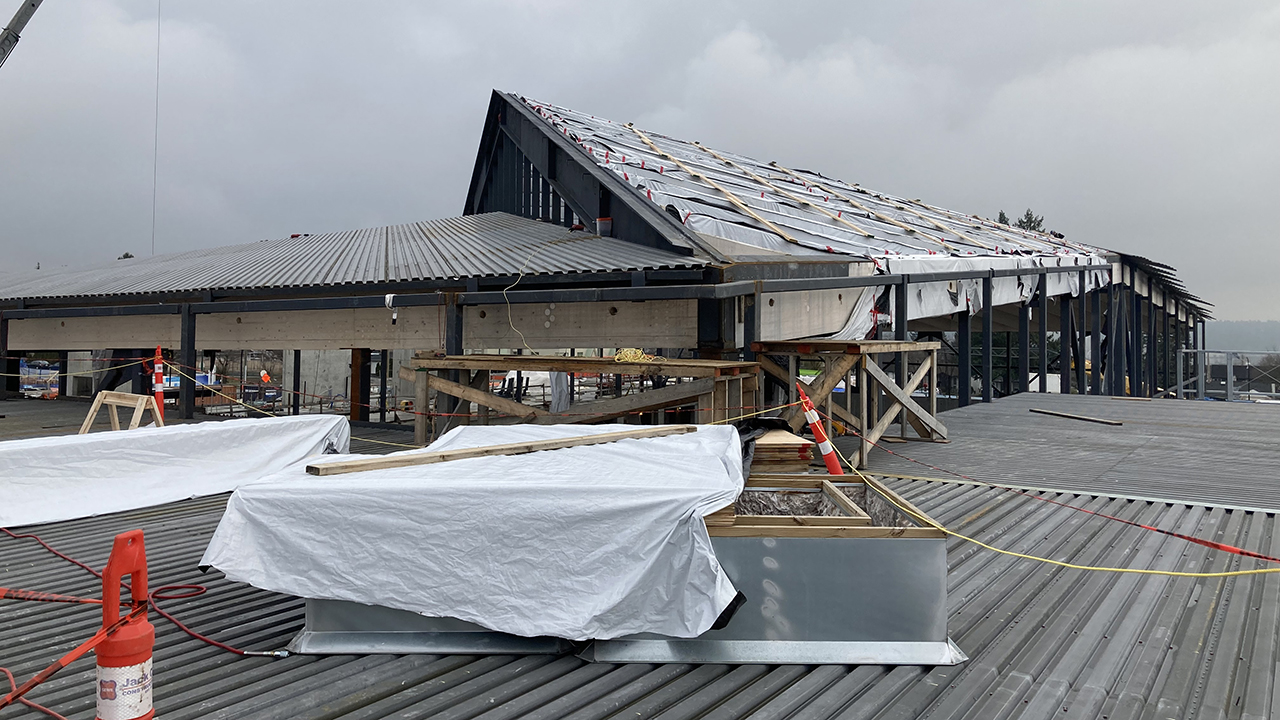 January 21, 2022
The deck of Arena B is being installed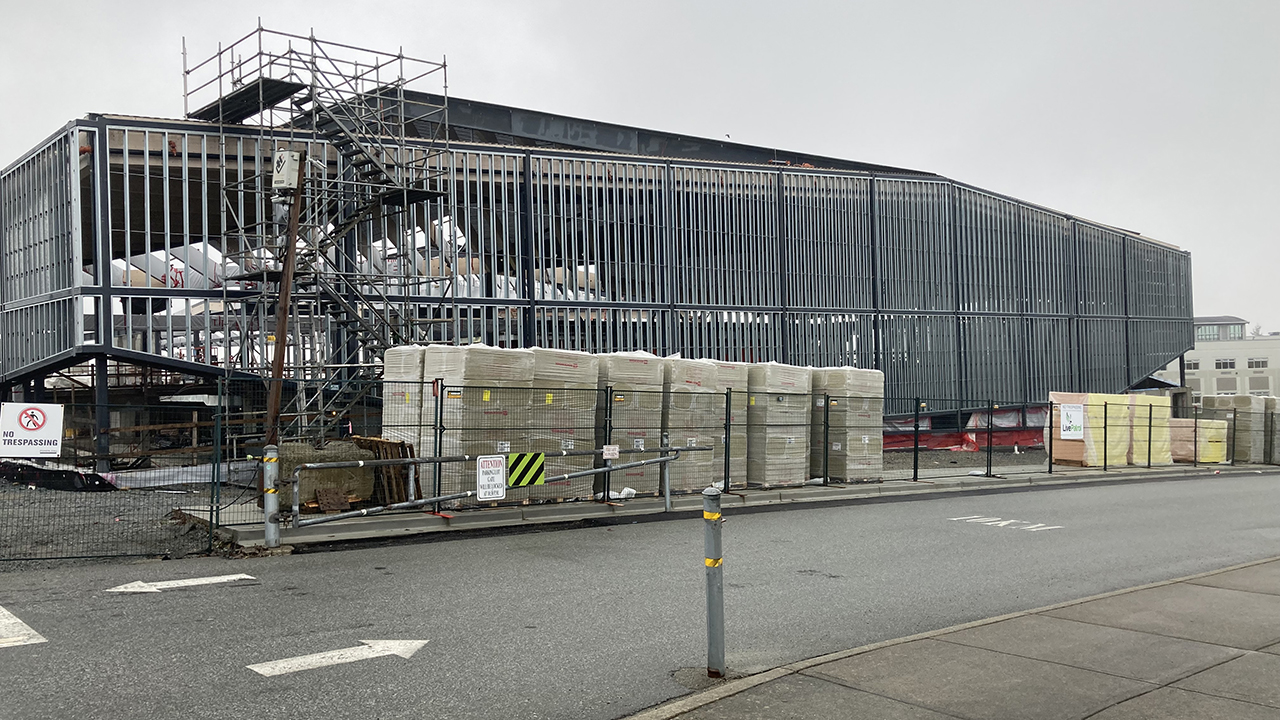 January 18, 2022
The framing (walls) of Arena A going up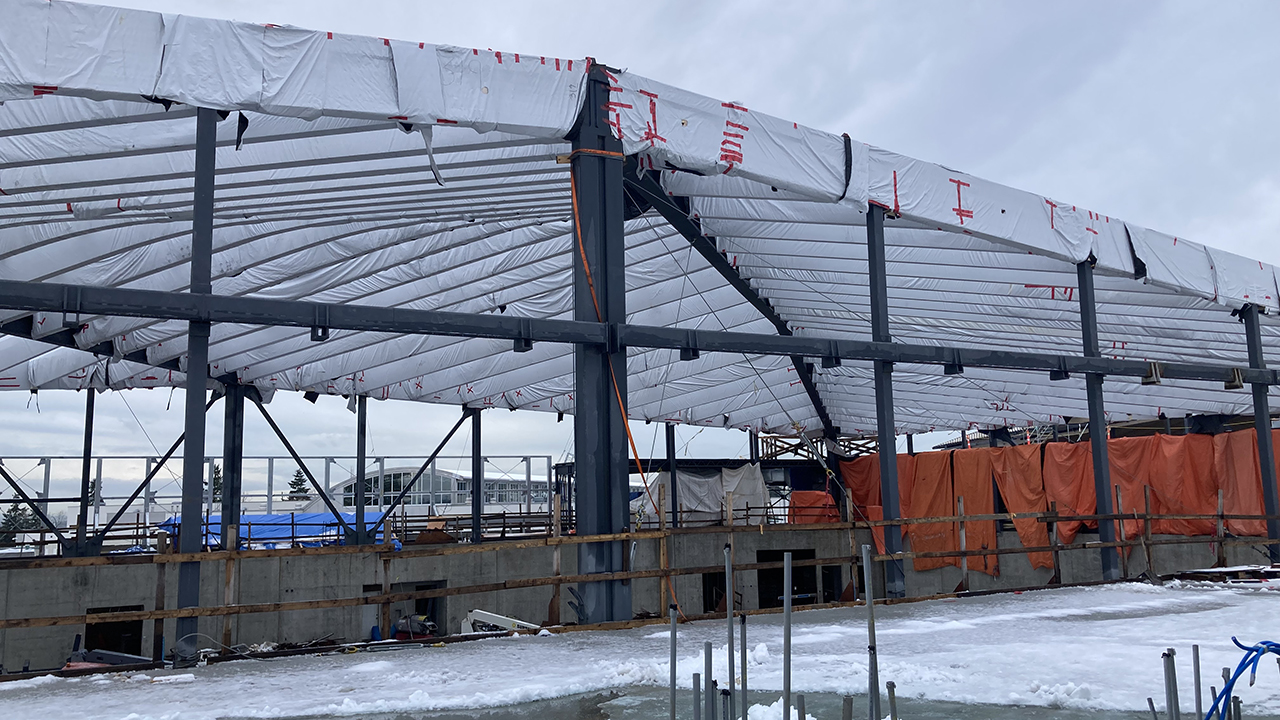 January 4, 2022
Glulam (roofing) beams for Arena B roof has been completed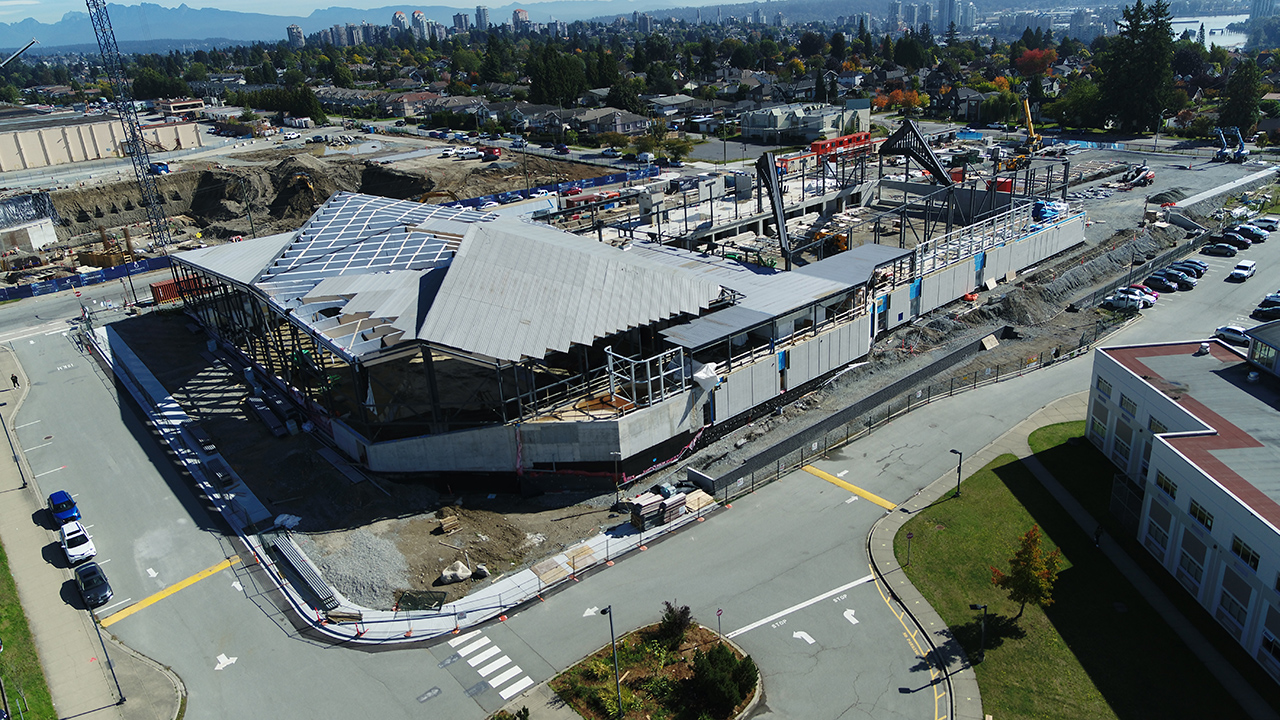 September 2021
Roof is progressing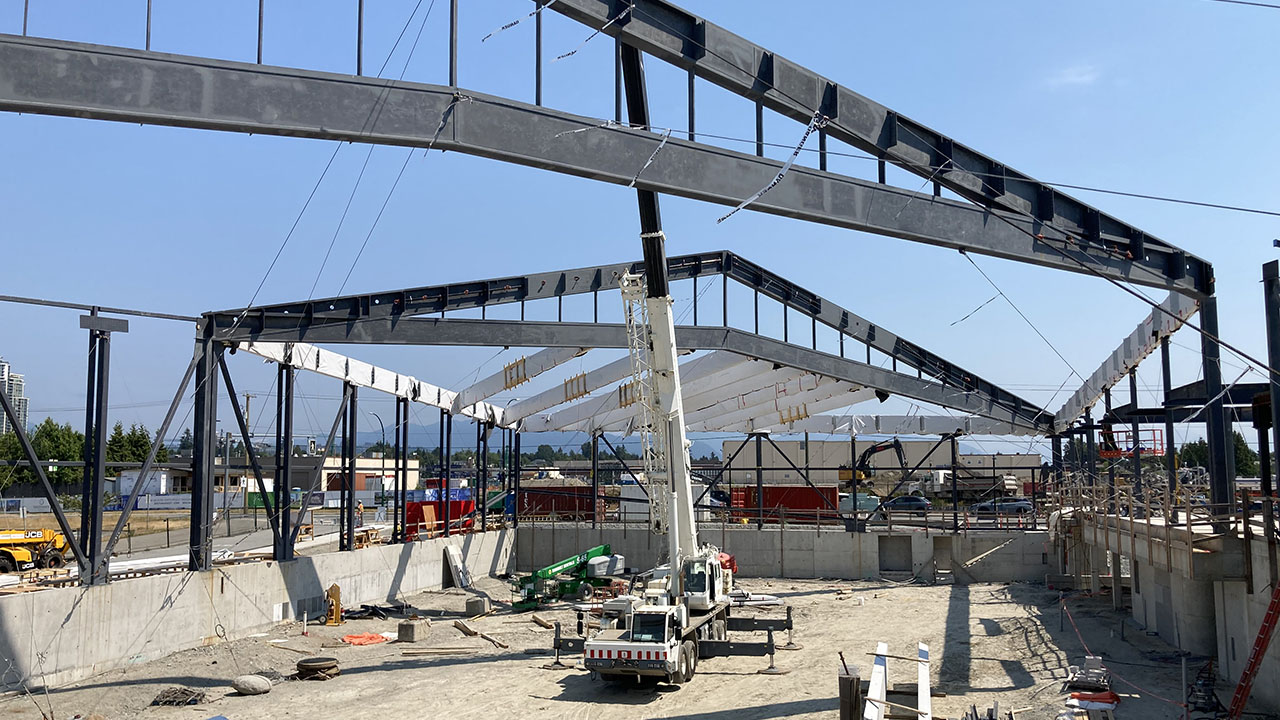 July 2021
Installing wood beams in the roof of Arena A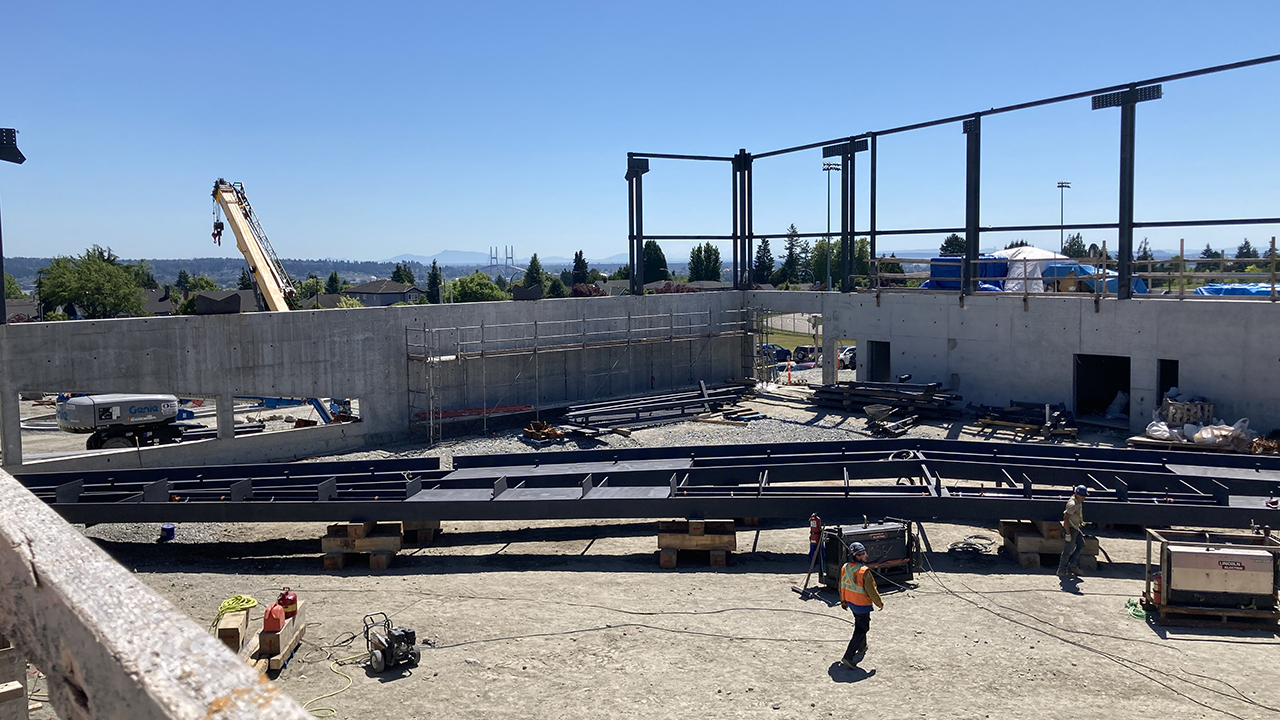 June 2021
Arena B trusses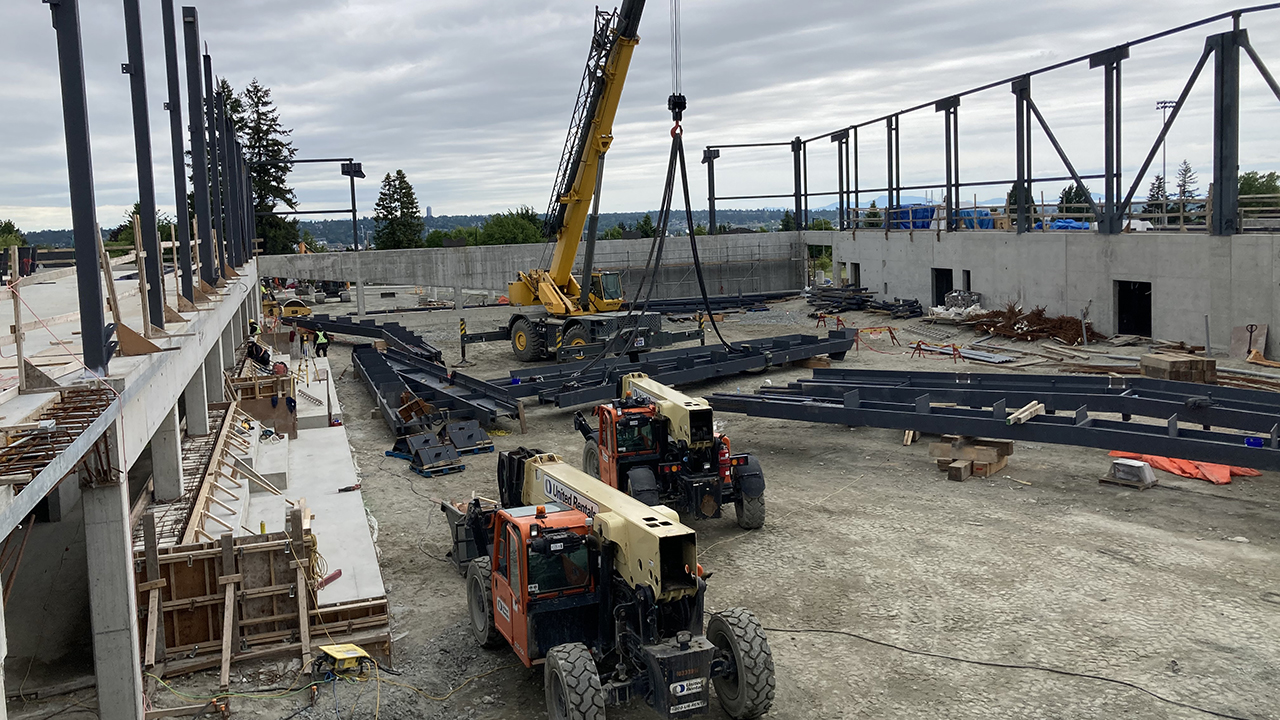 May 2021
Rink B steel installation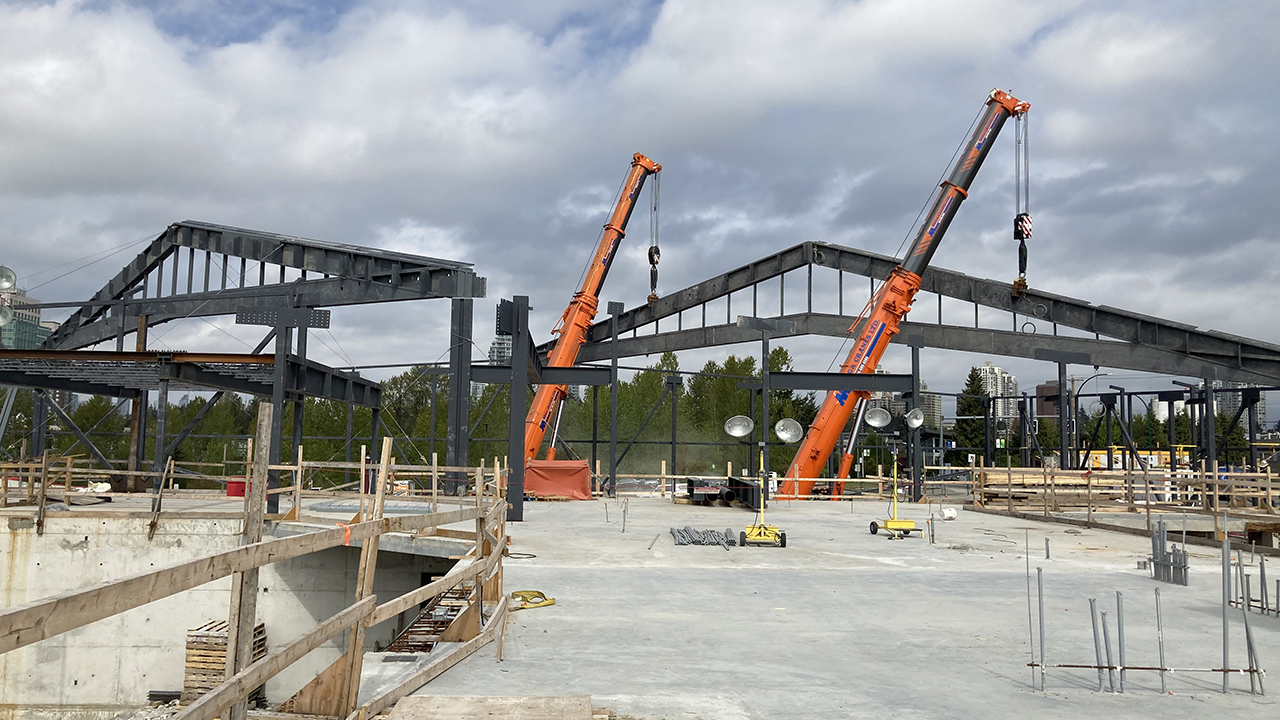 April 2021
Starting to take shape