April 30-June 6, 2021
Arts Alive and Artist Apprenticeship Program
Arts Alive is an annual showcase of collaborative student works held in partnership with the Burnaby School District. This year's 39th edition presents a selection of artworks from elementary schools across the city. "Connection" is this year's inspiration for students. What does "together, apart" mean to Burnaby's elementary students? Our lower gallery features students creatively portraying new ways of finding connection while still featuring individualism and self-expression. The work enlists a variety of material choices such as paper, wood, felt and clay which, when combined with experimentation and collaboration, expressively communicate a sense of joy and play.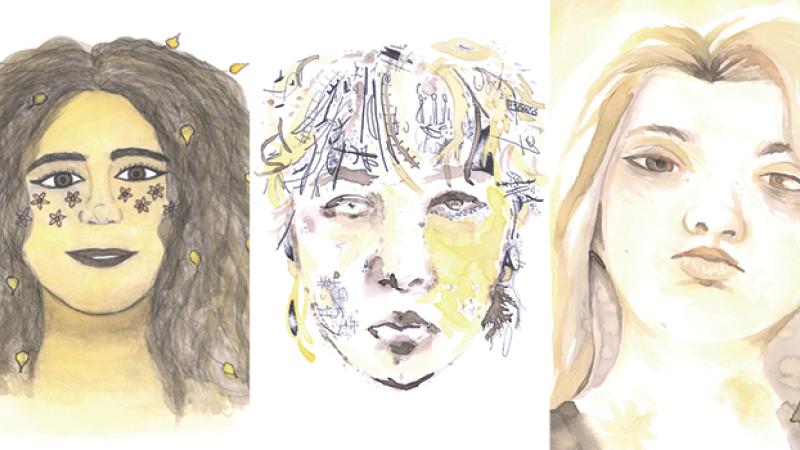 In our upper gallery, the Artist Apprenticeship Program presents the work of six Burnaby senior secondary students in an exhibition titled Connecting on Unstable Ground. This program mentors students interested in pursuing a career in fine arts and invites them to develop and curate an exhibition of their own works. The students, representing Byrne Creek, Moscrop, Burnaby Mountain, Cariboo Hill, Central and Burnaby South secondary schools, took part in the program during the winter and spring of 2021. Guided by professional artists, curators and programmers, students created artwork and developed their own exhibition including works from the permanent art collection.
This exhibition explores ways to connect in a time where division is necessary for survival. Despite our differences as unique individuals, the pandemic has become the common enemy that we are all working together to fight against. By exploring different mediums, the exhibition's works reinterpret our ideas of disconnection and differences. The universal disconnection is the connection that we all feel.
The Burnaby Art Gallery would like to acknowledge the time and dedication of all participating students, teachers, career counsellors and career placement volunteers. These exhibitions are made possible through the generous support of the City of Burnaby, BC Arts Council and the Burnaby School District.