The event of the summer is coming! It's an extraordinary year to see this performance as the RCMP marks its 150th anniversary. Join us at the Swangard Stadium for an evening of family fun, entertainment, activities, displays and food. Enjoy pre-show entertainment including a performance by the RCMP's Pipes, Drums and Dancers as well as a police dog demonstration from the Lower Mainland Integrated Police Dog Service.
A team of up to 32 riders and horses bring you a truly spectacular performance showcasing their equestrian skill through a variety of formations and cavalry drills set to music. It'll get your toes tapping and your hands clapping. Don't be surprised if you start to sing along!
Proceeds support Cops for Cancer and Honour House. 
Note: Availability of RCMP displays and exhibits are subject to change due to police operational demands.  
Location: 
Swangard Stadium
6100 Boundary Road | Get directions
Schedule
Gates open
5 pm
Displays, activities and food trucks
5-7 pm
Family zone
5-9 pm
Pre-show and entertainment
6 pm
Official welcome ceremony
6:45 pm
RCMP Musical Ride
7 pm
Meet and greet: See the horses
7:30 pm
Gates closed
9 pm
Yes. Tickets can be purchased in advance in person or over the phone from the Shadbolt box office. 
Yes, tickets can be purchased at the gate. Payment by credit card or debit card preferred. For cash sales, exact change required. No change provided.
There is limited parking available onsite. Please consider using public transit, taxis, bicycles, ridesharing, or an offsite parking lot. Bike parking will be available.
If you're taking transit, Swangard Stadium is just a short walk from the Patterson SkyTrain station. Plan your trip using the Translink Trip Planner.
Yes, there will be a bike valet on-site, located near the accessible ramp. You can also use your own bike locks in the bike parking area.
The concession and food trucks will be on-site for a selection of food and drinks. No outside food and/or drinks are permitted on site. 
Personal empty reusable bottles are allowed. Use the on on-site water stations to fill your empty water bottle.  
Accessible seating options are available at Swangard Stadium. A wheelchair accessible viewing section is available from the main concourse level (Middle of Section C and D). Ample additional viewing locations on the field level (accessible from the north and south end of the concourse). Access to field level will require additional support on the ramp. Additional seating will be available for assisting attendants.  
Yes. The accessible drop-off is available at the Swangard Stadium main gate accessed off E. 45th Avenue and Boundary. Please follow the one-way signage and traffic controller's direction when entering and exiting the event site drop-off. Vehicles must be under 12.5 metres in length.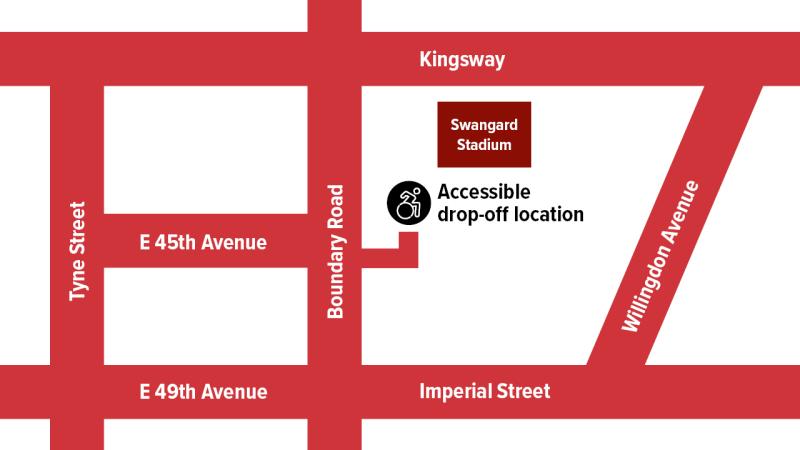 All seating is general admission, with no reserved seats. 
No personal chairs are permitted on site.  
For the safety of all guests, please leave the following at home:
tents, tarps, wagons or umbrellas
weapons or anything that could be considered to be a weapon (including knives of any kind)
frisbees or balls
animals (working service dogs are permitted)
flags, signs on sticks or banners
barbeques or fires
musical instruments
laser pointers
fireworks
alcohol
all smoking and vaping products
glass bottles
Bags are subject to search at the gate prior to entrance. 
About the Musical Ride
A symbol of tradition, honour, and pride, the Musical Ride is a Canadian icon recognized at home and abroad. The Musical Ride supports front-line police operations by building positive relationships, supporting recruiting efforts and promoting the RCMP's image in communities in Canada and around the world.
The troop of up to 32 riders, who are all police officers, and their horses perform intricate formations and drills set to music, lasting about 30 minutes. These movements demand the utmost control, timing, and coordination.
Thank you to our partners:
Pre-entertainment and the Musical Ride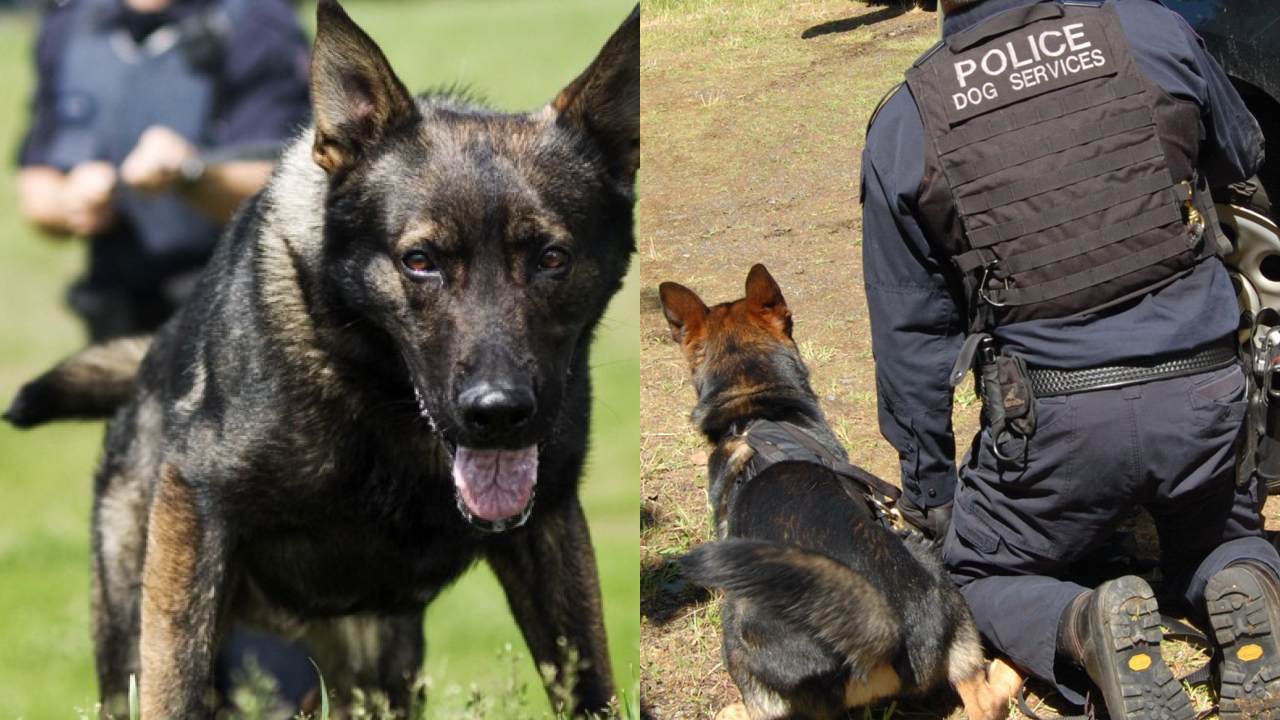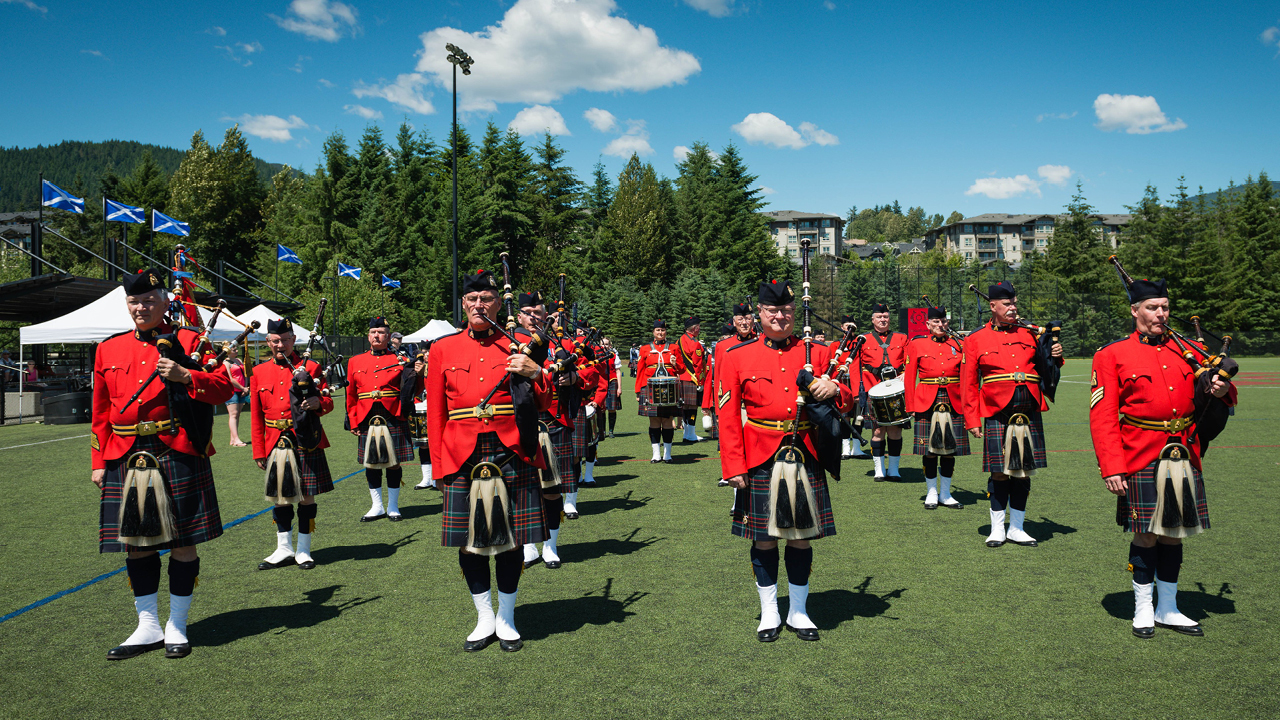 RCMP's Pipes, Drums, and Dancers