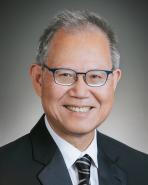 Before being elected to serve as councillor in the City of Burnaby on October 15, 2022, I served as a Member of the Legislative Assembly in the Province of British Columbia from 2001 to 2017. While serving as an MLA, I was appointed Deputy Speaker of the Legislative Assembly from September 2015 to May 2017.
Before being elected to the Legislature, I was a professional staff at TRIUMF, Canada's national particle research facility. In 1976 I earned a Combined Honours Bachelor of Science degree from UBC in physics and mathematics and later a Master of Science from UBC in Applied Mathematics.
I immigrated to Canada in 1971 to live with my grandfather who came to Canada in 1913. I married my late wife Anne and settled in Burnaby in 1986, where we raised 3 children.
I was an active volunteer in the community, having served as Founding President of the BC Cultural Diversity Association, and serving as director of BC Heritage Language Association, Burnaby DPAC, Burnaby Chinese Parents' Association, Burnaby Multicultural Society, and Civic Education Society.
I will make sure that City Hall focuses on making life more affordable for families.
Provincial government roles and committees (2001-2017)
Member of the Legislative Assembly, Province of British Columbia (2001-2017)
Deputy Speaker of the Legislative Assembly from September (2015-2017)
Parliamentary Secretary for Traditional Chinese Medicine (2013-2015)
Parliamentary Secretary for the Asia Pacific Strategy (June 2013-December 2013)
Parliamentary Secretary for Asia Pacific (2011-2013)
Parliamentary Secretary for Multiculturalism (March 2011 - September 2011) 
Parliamentary Secretary for the Asia-Pacific Initiative (2005-2011)
Vice Chair, Special Committee to Appoint a Merit Commissioner
Chair, Government Caucus Asian Economic Development Committee
Member of the following Cabinet Committees, while serving as MLA:
Cabinet Committee on Strong Economy
Cabinet Committee on Open Government and Engagement
Cabinet Committee on Jobs & Training
Cabinet Committee on Climate Action and Clean Energy
Member of the following additional committees as MLA:
Legislative Select Standing Committee on Children & Youth
Legislative Select Standing Committee on Health
Legislative Select Standing Committee on Education 
Legislative Select Standing Committee on Legislative Initiatives
Legislative Select Standing Committee on Public Accounts
Legislative Select Standing Committee on Finance and Government Services
Legislative Special Committee to Review the Police Complaint Process
Legislative Special Committee to Appoint a Police Complaint Commissioner 
Government Caucus Committee on Economy and Government Operations
Government Caucus Committee on Multiculturalism and Diversity